Online Piano Lessons Reviews: The Truth About 'Review Sites'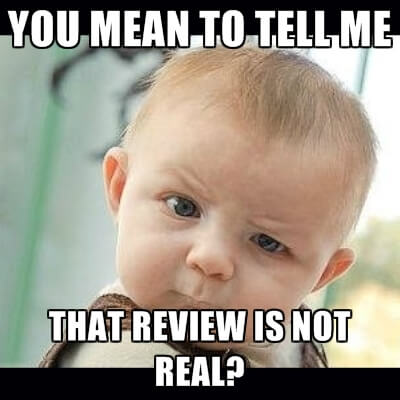 Caution: You will be horrified!
Occasionally, students or prospective students ask me why Musiah is not featured on some of the third-party review sites you'll find online.
Typically, such sites feature reviews of several of the 'best' online piano lessons providers, and at first glance they may seem to be helpful, either comparing several online piano lessons providers side by side and / or giving them a ranking to show which sites, in the reviewer's opinion, hold the 1st place, 2nd place, 3rd place, and so on.
Seems like a good source of reliable information? Read on my young Padawan — you have much to learn.
What follows is a story that reveals the dark side of so-called third-party review sites, and why you should place little if any weight on anything they say…
Some time ago, I was surprised to discover that Musiah had been reviewed by arguably the most prominent 'review site' on the internet. In the review, Musiah was given a strategically respectable but otherwise low ranking compared to a number of other much more basic online piano lesson offerings.
What's wrong with that, I hear you ask? Surely the reviewer is entitled to their opinion.
Perhaps if they had ever actually used the software, maybe.
That's right, the review was entirely fraudulent in that it purported to be written by a reviewer that had actually used the software, when in fact this was not the case.
Thankfully, at www.musiah.com we track a wide range of student activities, which in this case provides valuable evidence.
Disturbing facts to note include:
The 'professional' reviewer did not at any stage connect a MIDI keyboard to their computer (a MIDI keyboard is required to use the Musiah software)
The computer they were using did not even meet the minimum system requirements
In total, they spent less than 3 minutes actually using the software.
In light of this, I successfully requested the review site to remove their review of Musiah, pointing out (in addition to the above) that their reviewer had not experienced any of the advanced features of Musiah — the world's first Artificially Intelligent Virtual Piano Teacher — such as how he responds when you make one or more mistakes in the middle of a complex learning process.
In summary, five years of development work (at the time or writing) and millions of dollars I have personally invested into the creation of Musiah was 'reviewed' by their staff member, after less than 3 minutes of their time spent in the very first lesson, where the reviewer did not even answer the first very simple question (which requires the student to play Middle C on the keyboard), much less complete the lesson.
Another unsettling point is, that the most logical / likely reason why the reviewer did not connect a MIDI keyboard to their computer when using Musiah, is that they simply didn't have one.
The frightening implication of this is, that every single one of the other piano lessons products featured in the same annual review by this 'review site', was almost certainly also reviewed without the use of a MIDI keyboard.
In other words, not only did the reviewer not use the Musiah software at all...
In the absence of a MIDI keyboard – they couldn't possibly have used any of the other products they were reviewing.
And yet, these side-by-side comparison-style reviews are published as 'fact' to guide unwitting consumers.
Unlike reviews you will find on the Musiah website, reviewers writing for 'third-party' review sites have no interest in music lessons or learning piano. They are simply reviewing a number of sites they have been assigned to review, and will do so as quickly and with as little care as possible.
Even genuine third-party reviewers (if there are any out there) face a near impossible task because it simply wouldn't be viable for them to spend more than 1-2 hours reviewing each product.
Granted, in some cases, it is possible for a genuine reviewer to assess online piano lessons products within 1-2 hours (since they are pretty basic), but this not the case with Musiah.
In order to sustain students' interest over a long period of time, Musiah is uniquely designed as an epic gradual reveal.
There are many teaching techniques and lesson modules types (program functionalities) gradually introduced in the more advanced levels that are simply not introduced straight away in the early levels.
So the organic nature and depth of Musiah's tuition and the full range of his responses to students' playing can only be experienced fully over a long period of gradual usage.
Hence it cannot be properly reviewed by someone who has only used the software for 1-2 hours — or as happened in this case — for 3 minutes!
In stark contrast, on the Musiah site, we only publish unsolicited reviews sent in by students who have used Musiah for at least 20 hours, and...
In most cases, students who review Musiah have used the software for hundreds of hours.
So their depth of product knowledge of Musiah's online piano lessons is vast compared to 'third-party reviewers' and you may be assured that they are 100% genuine and reliable.
Further, reviews on third-party 'review sites' are commonly commissioned, or the review site benefits commercially in some other way, with the No. 1 ranking being given to the company / product owner who commissions / pays for the review.
A case in point is the same review site that reviewed Musiah (until I requested them to take down the Musiah review).
In 2013, the No. 1 ranking on this site was given to "Product A", thereby revealing who had commissioned the review that year.
Then, in early 2014, to my surprise, when a fresh batch of sites was reviewed (the reviews are re-done each year), Product A was at first allocated the No. 2 place while Product B (a relative newcomer to the marketplace) was allocated the No. 1 slot.
This caused me to momentarily question whether I was right about Product A having commissioned the review in 2013.
Remarkably, however, a few weeks later, when I looked at this particular review site again, lo and behold, Product A was back in the No. 1 place.
In other words, the 2014 reviews had been revised and Product A was reinstated as the No. 1 contender a few weeks later with Product B having been moved to the No. 2 slot.
Perhaps initially, Product A had been hesitant to pay whatever sum the review site required for its 2014 review, but then reconsidered their position and increased their bid.
Whatever the details of the behind-the-scenes negotiations, the reviews on this site (and most supposedly 'third-party' review sites) are anything but genuine.
In conclusion, the best source of genuine, reliable reviews of Musiah's online piano lessons — written by students with a genuine interest in learning piano and who have used the software extensively — is right here at www.musiah.com.
Ultimately, of course, an even better way to assess the suitability of Musiah's online piano lessons for you is to spend some quality time using the software yourself.
And our Online Piano Lessons 14 Day Free Trial (available for a limited time) is a perfect opportunity to do just that.
Also, unlike other sites, if at any stage you need help, for example, connecting your keyboard to your computer, or getting set up, I am only an email away, and will be pleased to assist you personally. Please feel free to contact me directly.
Thanks for reading,
Brendan Hogan L.Mus.A, A.Mus.A.
Piano Teacher & Musiah Inventor
RECOMMENDED ARTICLES
Online Piano lessons – Do They Work?
Piano Lessons For Adults
Piano Lessons For Kids
Piano Lessons For Beginners
Advanced Piano Lessons
Free Piano Lessons (on piano technique)
The Best Piano Method
The Best Piano Learning App
Learning To Play Piano As An Adult – Why it's easier than you think!
---
Related Articles