How To Manage Performance Anxiety When Playing Piano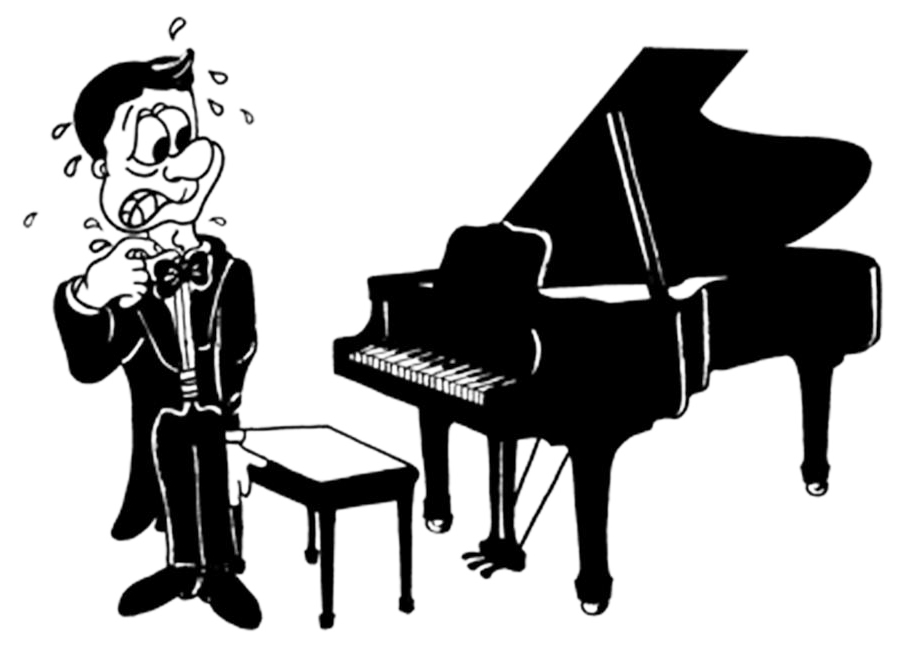 Every once in a while, students ask me for advice on coping with nerves while playing in front of an audience, a.k.a. performance anxiety or stage fright.
And sometimes, they even ask for this advice to help them cope when playing in front of the virtual audiences within the Musiah app.
While the performance challenges students are required to complete at the end of each level of the Musiah piano lessons course take place within the safety and anonymity of the Musiah piano lessons game-like environment, for many folks, the virtual performance experience is so life-like that it feels very close to the real thing.
And so, some students understandably experience performance nerves similar to those they would experience in a real life performance.
Overall, this is of course a good thing, as it means that students can try, and fail, and try again without suffering any of the consequences of real life performances that don't quite go to plan.
What is the best way to manage performance nerves and gain control of anxiety when playing piano in front of any audience (whether virtual or real)?
Below is an email trail between me and an adult student who asked this very question. It addresses the issue in some detail, and while the advice below is tailored to students using the Musiah piano lessons software, the principles behind it apply equally to piano students and performing generally.
----------------------
EMAIL 1:
hi there
Just wondering if you have any suggestions for performance anxiety. I am feeling somewhat discouraged.
Again i had practiced all my songs for the challenge and had almost 100% in them but when i get to the actual challenge, i get so flustered that i mess up. Now again [because new pieces are allocated for each performance challenge attempt] i have to do 2 new songs to be able to continue.
Thank you for your support.
Gail
REPLY 1:
Hi Gail,
Thanks for your inquiry. This is honestly a difficulty question to answer by email as there are many variables.
I just tried calling you to discuss this, but I could only reach your voicemail. (I did not leave a message).
Initially, a few quick thoughts come to mind...
1) I notice there is sometimes quite a big time lag between your performance attempts. Ideally, once you decide to tackle a performance challenge, it's best to try to do the challenge the same day or at least within a day or so.

2) The best way to prepare is to take note of the 3 allocated pieces and then practice them by choosing the 'Practice' option from the Performance Menu screen (where the 3 pieces are listed).
In the Practice Area (when accessed via the performance menu), you'll only be able to access the 3 allocated pieces. The idea is to practice them individually first, and then, before attempting the actual challenge, do a few mock run-throughs in the Practice Area by playing each piece in sequence at full tempo with the backing track (much like the performance challenge).
Only when you are comfortable playing piece 1, then piece 2, then piece 3 in an uninterrupted sequence would I then attempt the challenge.
3) Remember that, unlike real life, the performance challenge only requires you to score 70% in each piece. So you can usually leave out some notes or even 1-2 bars and still pass.
The thing to try to do, if / when you make a mistake, is to continue to follow the progress of the piece relative to the backing track so you can join in again a bar or so later.
4) Re anxiety itself, there is no instant cure for this. It's perfectly normal. And, rare exceptions aside, if any performer tells you they don't get nervous, they're probably not being honest.
The two best things that will help you manage your performance anxiety over time are a) preparation in the form of mock run-throughs and b) performing regularly — the more accustomed you become to performing, the less anxiety you will experience, and what anxiety may remain, you will be able to put to one side as you develop the habit / skill of focusing through the anxiety on playing the pieces as you have prepared them.
I hope this response helps, and if I can be of further assistance, please let me know.
Best regards,
Brendan
EMAIL 2:
HI Brendan
I am sitting here in tears just so touched that you would call me about this situation!! Your care for your students is so incredible and I am so proud to be a part of the Musiah family.
I wish I was further along for sure but I know that practice is so essential. As far as this particular performance challenge goes, I have been practicing for several weeks and was so scared to finally do the actual challenge. But I decided that I needed to Just Do It today.
Unfortunately I allowed myself to get flustered and then to not finish the piece. Of course that means that I now need to relearn and practice other songs in order to do the next challenge. I'm feeling a little defeated since this will be my third time. However I know that I will do it, just not in the time line I had hoped.
Thank you Brendan for your care, concern and support.
Blessings
Gail
REPLY 2:
Hi Gail,
You're most welcome, and it's my great pleasure to count you among my Musiah students.
For now, try to follow the suggested points in my email, and hopefully, you'll soon make it through to the next level.
That said, if you're still struggling after a few days / a couple more attempts, please know that I am here for you and am only too willing to have a chat to work out the best approach to help you overcome this issue.
Good luck and best wishes,
Brendan
EMAIL 3:
Hi Brendan
So after many more days of practice, it was with great fear and trepidation that i sat down to attempt my performance again.
With your words of encouragement ringing in my ears and much prayer for peace, I finally did it!!!! I sat there with tears of joy and relief as I heard the applause of the crowd in the Concert Hall.
Onto Level 3!!
Thank you once again for this amazing program and especially for your commitment, care and encouragement!
Gail
REPLY 3:
Hi Gail,
Congratulations!!! That's a wonderful achievement - I'm so proud of you. Well Done!
I really admire your persistence and the thoroughness of your preparation which definitely paid off.
You may be interested to know that on this performance challenge, your scores were near perfect for each piece: Piece 1 - 95, Piece 2 - 99, Piece 3 - 99 — even under the pressure of the performance challenge which is quite similar to a live performance scenario.
So you have made great strides forward in terms of managing performance nerves, etc.
Congratulations once again, and I hope you enjoy Level 3.
Best wishes,
Brendan
---ooo0ooo---
It is my sincere hope (dear reader) that in the above email trail, you'll find some thoughts / tips / insights that may help you to prepare for performances and to manage any performance anxiety you may experience when playing piano in front of an audience.
The process of becoming accustomed to playing piano for others is just that – a process.
The important thing is to know that you are not alone in this experience, and that with just a little time and perseverance, YOU CAN DO IT!!!
And of course, if you (dear reader) would like to experience highly effective piano lessons, I warmly invite you to take our Online Piano Lessons 14 Day Free Trial.
Good luck, and happy playing,
Brendan Hogan L.Mus.A, A.Mus.A.
Piano Teacher & Musiah Inventor
RECOMMENDED ARTICLES
Online Piano lessons – Do They Work?
Piano Lessons For Adults
Piano Lessons For Kids
Piano Lessons For Beginners
Advanced Piano Lessons
Free Piano Lessons (on piano technique)
The Best Piano Method
The Best Piano Learning App
Learning To Play Piano As An Adult – Why it's easier than you think!
---
Related Articles