The only online piano lessons with the depth of instruction of a world-class teacher.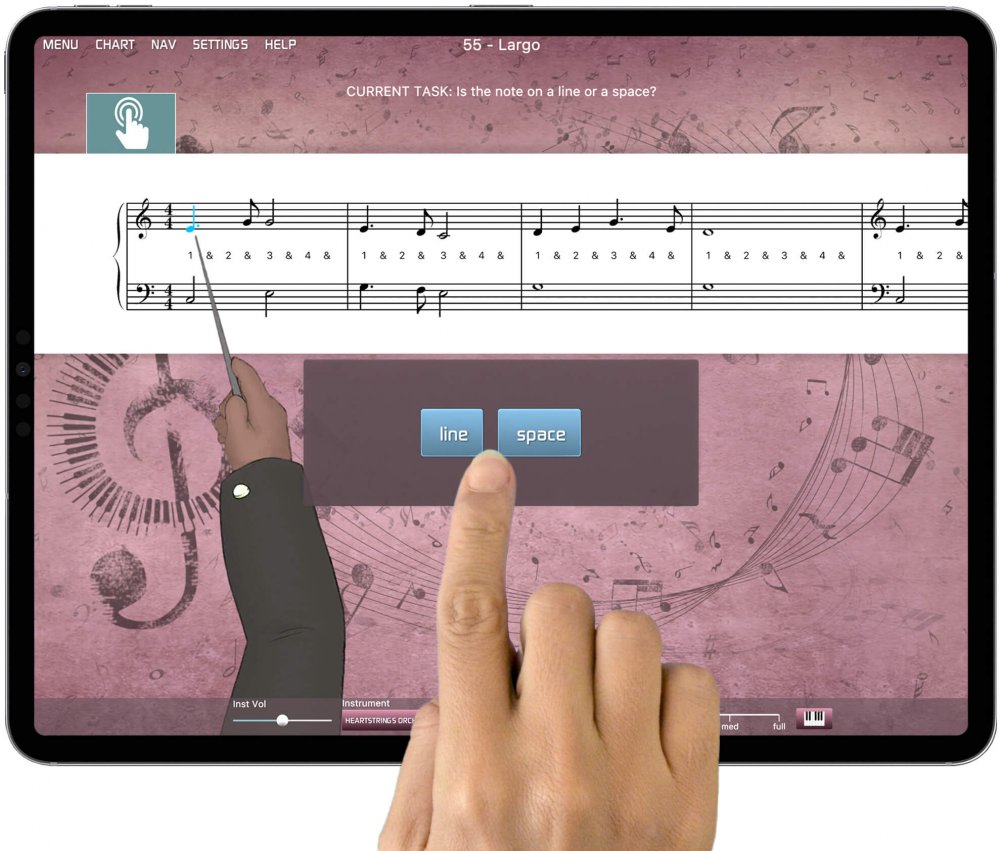 Read notes & play songs with both hands from day one
Incredibly effective – practice & learn 16 times faster
Responds to your playing just like a live teacher
Works with any MIDI keyboard / digital piano
Ideal for adults and kids
---
Over 80,000 piano beginners have learned through the Musiah Method
Introducing a revolution in online piano lessons
In the past, teaching yourself how to play piano used to be difficult and time-consuming whether you learned with a live teacher or through video lessons online. Typically it took years to learn to play even easy songs to a reasonable standard.
Now those times are over. Using the latest A.I. technology, Musiah speaks to you and, pointing to the sheet music, he guides you and responds to your playing just like a live teacher. With Musiah piano lessons online, you'll receive a comprehensive music education. From note reading to rhythm, scales to chords, ear training to memory training, music theory, playing technique and more, Musiah will even teach performance skills.
If you have a dream to learn to play piano, this is the most effective, affordable and practical way to learn. And you can get started right now with just a few clicks.
Check out our piano lesson syllabus
Below is a summary of our online piano lessons for beginners. Some sites offer a limited number of free basic piano lessons but here at Musiah, we give you 14 DAYS COMPLETELY FREE in which you can try as many of our piano lessons as you wish. To start a free trial, simply click the signup button. Signup is quick and easy, so you can be learning your first lesson in just a few clicks.
Piano Lessons For Beginners – Level 1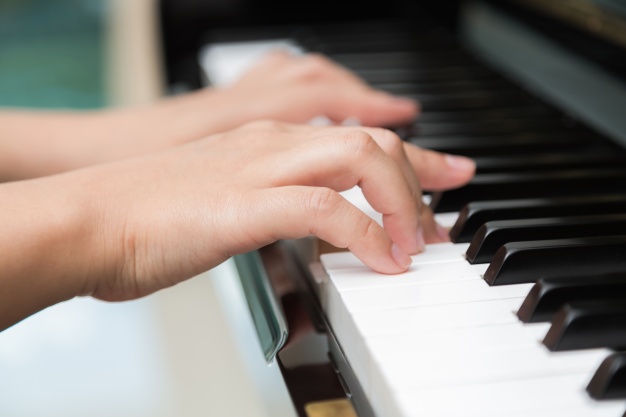 This level has 19 terrific piano lessons for beginners that will take you from the very beginning to playing great songs with both hands in time with fun backing tracks. As you progress, you will learn correct playing technique, music theory, how to read music and more. And as you practice, Musiah will be with you to guide you every step of the way.
Around 70% of our students are adults, so these lessons are ideal for grown-ups (as well as kids from age 7). No prior experience is needed, so if you have never played piano before – these lessons are perfect for you. They're also great for students who are returning to piano after a long break. To use Musiah, you need a MIDI keyboard (minimum 49 keys) or digital piano connected to your PC, Mac or iPad by either cable or Bluetooth.
Lesson 1 – Easy beginner steps
Lesson 2 – Playing with the left hand
Lesson 3 – Easy song for both hands
Lesson 4 – Reading sheet music
Lesson 5 – Learning to read and play more notes
Lesson 6 – Playing duets
Lesson 7 – Advanced duet playing and the importance of rests
Lesson 8 – New rhythms and introduction to sight reading
Lesson 9 – Efficient ways to learn and practice
Lesson 10 – Playing a rhythmic accompaniment
Lesson 11 – Playing very different notes in each hand at the same time
Lesson 12 – Playing thirds
Lesson 13 – Ensemble playing: accompaniment part
Lesson 14 – Ensemble playing: main melody part
Lesson 15 – Ensemble playing: harmony part
Lesson 16 – Advanced coordination
Lesson 17 – More advanced coordination
Lesson 18 – Finger exercise
Lesson 19 – Alternating hands
Bonus – Performance Challenge
---
Piano Lessons For Beginners – Level 2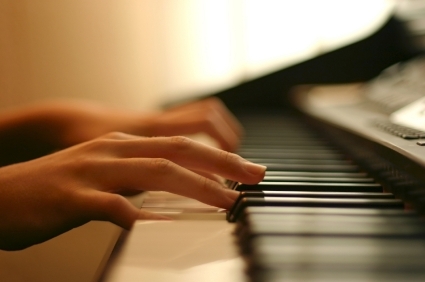 In this second level of 15 piano lessons for beginners, you'll build on the skills and knowledge gained in Level 1. Areas covered include new hand positions on the keyboard, crossing one hand over the other, increased coordination and finger independence, chords, different accompaniment styles, ensemble (group) playing, how to read sheet music faster, music theory, e.g. tied notes, more note and rest values, recognizing patterns in the sheet music and more.
Lesson 20 – D position
Lesson 21 – Crossing the left hand over the right hand
Lesson 22 – Increased Finger Independence
Lesson 23 – Tied Notes & Pattern Recognition
Lesson 24 – Left Hand In F Position
Lesson 25 – Chord accompaniment
Lesson 26 – Melody Shared Between Both Hands
Lesson 27 – Accompaniment chord patterns
Lesson 28 – Melody patterns
Lesson 29 – Ensemble playing: main melody
Lesson 30 – Ensemble playing – syncopated rhythm
Lesson 31 – Canon
Lesson 32 – Speeding up your note reading
Lesson 33 – Advanced right hand coordination
Lesson 34 – Two hands playing on bass staff
Bonus – Performance Challenge
---
Piano Lessons For Beginners – Level 3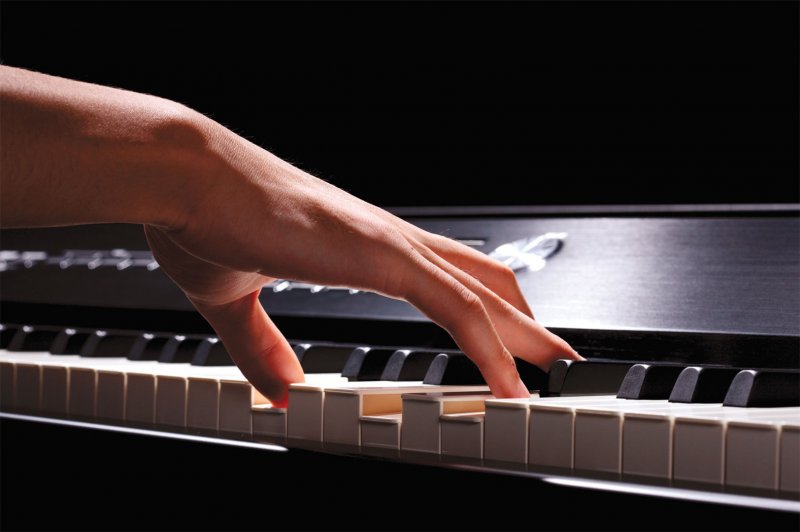 In this third level of 15 more piano lessons for beginners, as you continue to build your reading and playing skills, you'll learn songs involving new hand positions, more advanced coordination, fuller chords, scales, new notes and new music theory, and more advanced sensmbe (group) playing. By the time you have finished this level of beginner piano lessons, you'll be read for our intermediate piano lessons (Levels 4 to 9 of the course) and finally our advanced piano lessons (Levels 10 to 13)
Lesson 35 – Right hand chords with three notes
Lesson 36 – Melody alternates rapidly between two hands
Lesson 37 – C major scale
Lesson 38 – G major scale
Lesson 39 – Both hands written on separate treble staffs
Lesson 40 – Melody and harmony
Lesson 41 – A natural minor scale
Lesson 42 – Advanced coordination between two hands
Lesson 43 – E natural minor scale
Lesson 44 – Accompaniment featuring pairs of notes and a rhythmic bass pattern
Lesson 45 – Rhythmical melody shared between the two hands
Lesson 46 – Tricky pairs of left hand notes
Lesson 47 – B position – a new position for the right hand
Lesson 48 – Ensemble piece with four parts
Lesson 49 – Rhythmic part in a four–part ensemble piece
Bonus – Performance Challenge
---
Intermediate & Advanced Levels
In the Musiah course of piano lessons, there are 13 levels in total. Levels 4 to 9 are intermediate piano lessons and levels 10 to 13 are advanced piano lessons.
What people are saying out Musiah online piano lessons
Your system is an answer to my prayers... truly a gift!
"I am really enjoying my lessons. It has been my life-long dream to play the piano so your system is an answer to my prayers. Thank you for your vision and your dedication to helping your students become the best they can be. Your system truly is a gift! Thanks again for all your help and for Musiah. I tell everyone about my newfound passion and about this amazing program. It has truly been life-changing for me!"
— Gail Beinert
I am truly amazed at the progress my son is doing!
"I have to say that it's a brilliant program! I was impressed when I tried it out, but I am truly amazed at the progress my son is doing, especially because of his age. And he won't let go until he gets 5 stars! I completely stopped teaching him. Thank you! I am so grateful that I found Musiah."
— Alexandra Beytenbrat
You are on the forefront of a revolution in education – and not just in music!
"I wanted to try learning something completely new to me (my wife for half a century has pointed out I have no sense of rhythm or timing). Your use of the internet for competence based teaching with progressions, leveling up etc — is innovative and for me brilliant. You are on the forefront of a revolution in education — and not just in music. Keep going!"
— Dick Reece
Join thousands of piano students across the globe today – for free
Unlike other piano learning sites or apps, here at Musiah, you won't find any false claims or unsustainable promises, only rock solid, common-sense quality online piano lessons that have been crafted in minute detail over many years so that you truly can learn how to play piano and read sheet music up to 16 times faster.
In the words of music maestro John Foreman (Musical Director of Australian Idol 2003-2008 and Musical Director of Young Talent Time): "Musiah is absolutely the best value, the most convenient and the most fun way to learn piano".
Your first 14 DAYS ARE COMPLETELY FREE. And you can cancel any time during your trial at no charge.
So if you want to fulfill a lifetime dream of learning piano, brush up your existing note-reading and music theory knowledge, or give yourself or your children the best possible music education, you can do so here and now…
Simply take our 14 Day Free Trial...