Musiah Review: Adult Piano Student From Virginia Weighs Up Musiah

"I'm learning at a much quicker pace than I thought possible and I'm always very delighted at my progress upon completing a lesson."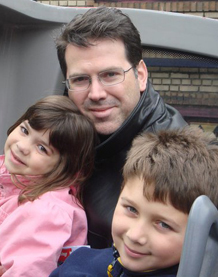 I'm a 42 year old male, husband and father of two young children with no previous music experience. I've always wanted to learn how to play the keyboard, but never had the time or money to pay for lessons.
Musiah has given me the ability to learn on my own schedule at a very affordable cost.
I think piano lessons in general tend to be intimidating for a number of reasons. If you grew up in a home where no family members played an instrument, even the concept of learning how to play ANY instrument seems daunting.
Learning to play the piano in general also tends to get a bad wrap in popular culture / media since lessons are typically portrayed as being dull, monotonous and requiring hours of continual practice.
Before enrolling with Musiah, I was a bit hesitant about purchasing the "right" MIDI keyboard. I went with a generally recommended keyboard as per the Musiah website (M-Audio Keystudio 49), and then comparison shopped on the web. I eventually found it on eBay for $50 USD, however I assume it was a holiday clearance special.
In general the initial purchase of a $100-$150 MIDI keyboard is not bad and the monthly subscription fee is quite reasonable. So the initial investment to get going and try piano lessons with Musiah is no more than paying for 3 to 4 weeks of lessons with a neighborhood piano teacher before deciding if you want to continue learning.
Once I enrolled, I found the Musiah software to be very easy to install and setup on my computer. The narrative and instruction are quite engaging from the start. I often find myself very ecstatic at being able to complete a song and daily look forward to getting home to practice.
I was also very surprised at how well the program can tell what you did playing notes on the keyboard, providing very relevant feedback as to how to improve and even walking you through troubleshooting rough spots in your performance.
The instruction obviously builds upon itself from lesson to lesson and each module is broken down into logical steps in order to learn the specific technique and reading of sheet music as well as tempo for each song.
The program keeps you interested and engaged through keyboard practice, hand exercises, note reading exercises as well as little interactive quizzes that are all woven throughout the modules.
Also, playing different instruments through the MIDI keyboard as opposed to just the piano is fun and interesting. It really opens your mind to musical possibilities.
The backing tracks are very upbeat and the program provides interesting takes on well-known songs so this keeps the content interesting and the music is fun to play.
I would recommend Musiah to anybody who wants to learn the piano/keyboard.
I think the flexibility of taking lessons when you have time in your schedule, reasonable cost of the program, engaging content / lessons and the ability to see real progress in a relatively short timeframe are all great benefits of using Musiah.
Playing the keyboard has become a new joy in my life and I get a real sense of accomplishment in completing each lesson. I really look forward to continuing to learn to play the keyboard and developing my skills over time. There's so much music out there that I want to learn to play eventually.
Thanks Musiah,
Bill D - Virginia, United States
RECOMMENDED ARTICLES
Online Piano lessons – Do They Work?
Piano Lessons For Adults
Piano Lessons For Beginners
Advanced Piano Lessons
Free Piano Lessons (on piano technique)
The Best Piano Method
The Best Piano Learning App
Learning To Play Piano As An Adult – Why it's easier than you think!
---
Related Articles