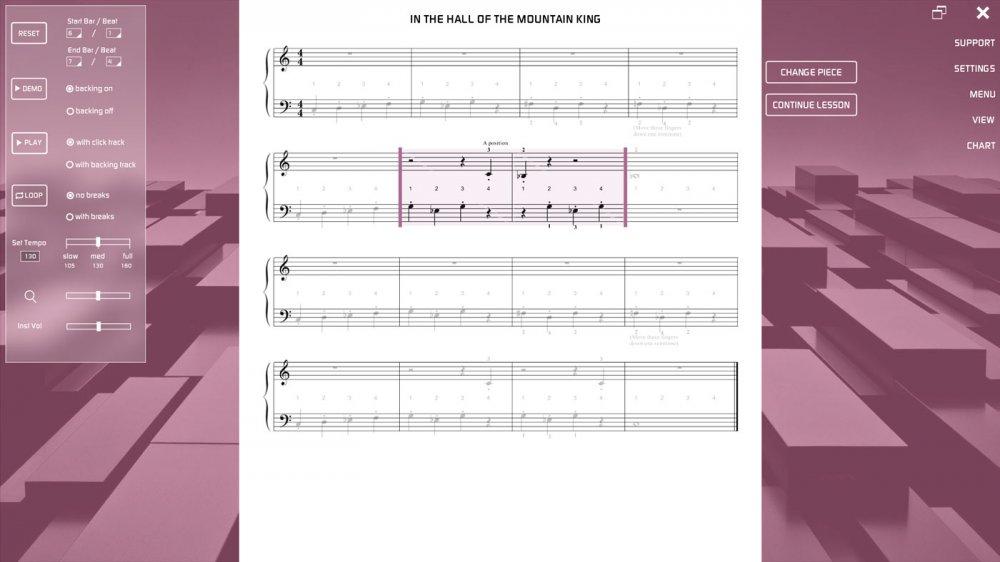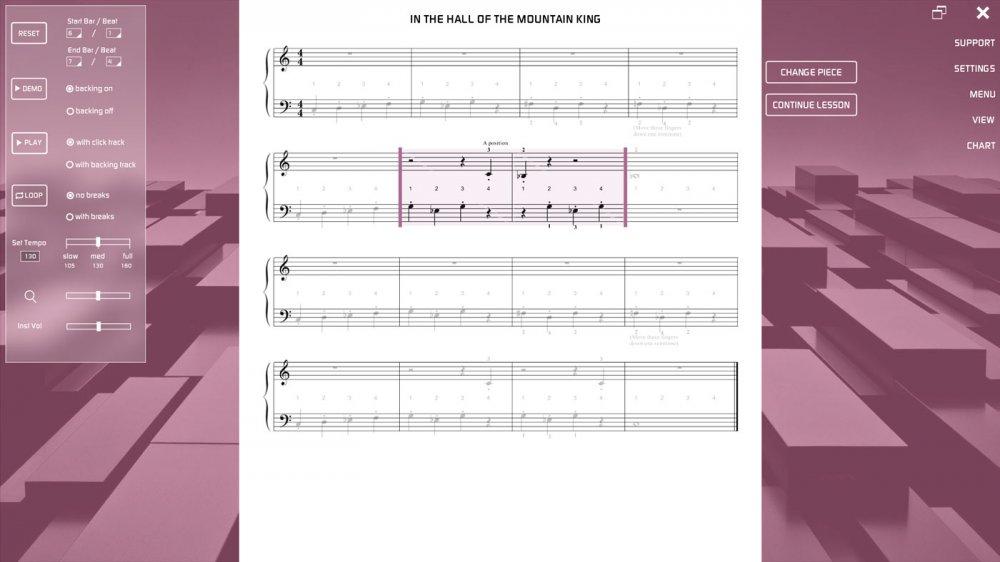 In recent weeks, with the help of feedback from our wonderful beta testers, the app has undergone a raft of improvements and enhancements, and is moving forward in leaps and bounds.
For example, the functionality of the Practice Area (pictured opposite) has been substantially reworked and is now robust and versatile with a number of tools to help students with their practice.
A Navigation Panel has been added to the lesson area so students can navigate straight to specific parts of a lesson (e.g. to repeat something).
But perhaps most of our time to date has been spent making a raft of unseen tweaks and refinements under the hood that are collectively contributing to create an overall stable, seamless and enjoyable app to use.
That said, we are certainly not resting on our laurels just yet as there is much work left to do.
More Great New Features Coming Soon
The good news is that the to-do list / bug list is getting shorter — we are now broadly at the stage where most significant bugs have been resolved.
What is left are minor bugs and cosmetic issues… which means we are getting closer to the bit I personally am looking forward to the most – the addition of more new features.
In the coming weeks, new features to be added include
'Story mode' (as an alternative to 'Pure mode')
View – the ability to change to alternate layouts, e.g. a scrolling single stave that may suit students with small screens
Print sheet music
Games section based on the revision room note reading / note playing modules so students can choose to focus on improving their note reading at any time
Built-in on-screen keyboard that can be played by students with a touch screen (for practical reasons this may only include 2 octaves which will therefore only be suitable for the beginner pieces)
Built-in virtual keyboard that allows you to play pieces via your computer keyboard.
Replay video button for instructional videos (as opposed to the Back button which brings you back to the start of the module containing the video)
Enhancements to tracking practice time, lesson time and total time (practice + lesson) to achieve 'X' stars
Ability to skip knowledge gathering if you have viewed it previously (knowledge gathering is currently not enabled)
Ability (on Settings screen) to adjust touch sensitivity (for touch sensitive midi keyboards)
Tour accessible from the Main Menu
Various enhancements to the ways in which feedback is given
Ability to upload your photo as your avatar
'Easy' mode for elderly students
What About Musiah For iPad?
Once all of these features have been added and tested, and once we are happy that the app is not only fully functional but highly polished (which will probably take about two more months), it will then be a relatively short extra step to issue a beta release for iPad, which I know many of you are looking forward to.
So to those of you who have already started using Musiah Unity (Beta), I hope you are enjoying this journey with us, and I thank you sincerely for your helpful feedback and generous encouragement.
If you have not yet tried Musiah Unty Beta (currently available for Windows and Mac), I warmly invite you to experience it for yourself. Links to the latest versions are accessible inside the Musiah customer login area at www.musiah.com.
If you are not a Musiah customer, simply take our Online Piano Lessons 14 Day Free Trial — available for a strictly limited time.
Should you have any queries about the above, or about Musiah's piano lessons generally, please feel free to contact me directly.
Til next time,
Brendan Hogan L.Mus.A, A.Mus.A.
Piano Teacher & Musiah Inventor