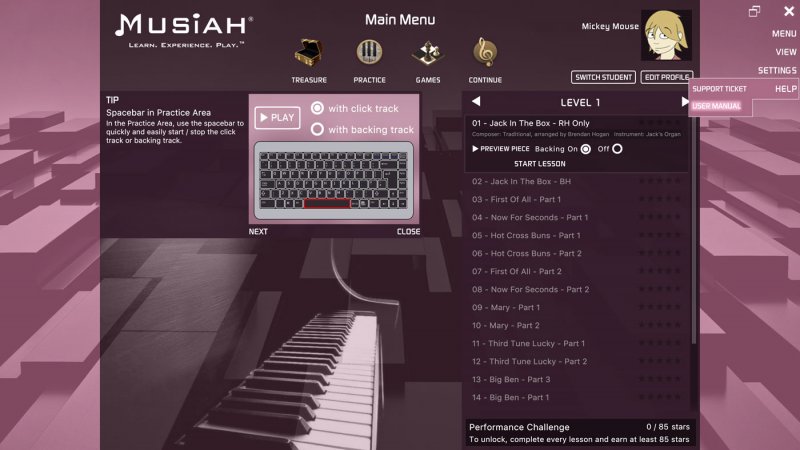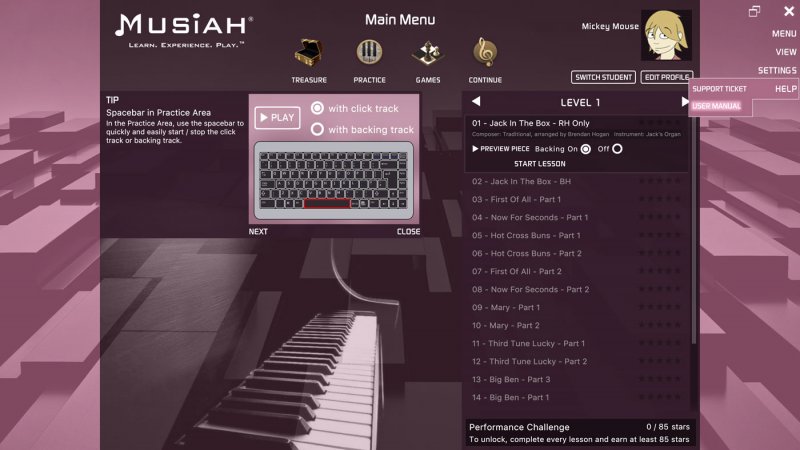 We are very pleased to announce that Musiah Unity (Beta) is now available for Musiah customers to try — at no additional cost.
What To Expect
Musiah Unity (Beta) in its current form is overall quicker and easier to use than the previous versions and already has many new features.
However, it is not quite finished (hence "Beta"). There are few things here and there that are still being fine-tuned or have yet to be enabled.
In the coming weeks we will be adding many additional features and functions. Our main goal with this initial release has been to get the core tuition functionality of the pre-existing Windows / Mac versions working in this new environment.
Also, this initial release features only 'Pure mode' – a new mode that focuses purely on the tuition as opposed to 'Story mode' (of the pre-existing versions) which has the Musiah animations / story as the backdrop for the lessons. Story mode will be added to Musiah Unity in the coming weeks.
Feedback Request
For the next few weeks (until around February) I would like to request that all feedback re Musiah Unity be limited to significant bugs / issues, e.g. anything that prevents you from using the app.
All other feedback, e.g. suggested features, minor things that perhaps have not yet been enabled or something that doesn't quite look right, we don't need to know about as we are already aware of them.
We will invite feedback when the app is a little closer to being finished.
New Features
There are many new features at various stages of being added. Some are complete, some partly added, some yet to be added.
New Features Currently Included
Pure Mode
Stylish New Interface
Larger Sheet Music (easier to read)
All controls on screen at all times (e.g. menu bar functions no longer hidden)
Zoom control to make sheet music even bigger if required
Instrument Volume control
Spacebar — This is one of my personal favorites… press the spacebar on your computer keyboard to skip the current phrase in Musiah's dialogue at any time (can be during a question / intro phrase / feedback, i.e. literally whenever you know what to do and just want to carry on, you can now do so instantly).
Advance button: ability step through to the next lesson module (for lessons / modules that are being repeated)
Pause To Practice feature in lesson area (ability to briefly pause a lesson to practice something without feedback / monitoring by the app – includes optional click track / ability to loop through the current section)
Configuration process phased out (this happens automatically behind the scenes) making setup easier than ever
Lesson chart can be dragged to wherever you want to place it on the screen
New Practice Area Controls (some of these are already included, some will be enabled in the next few days) including;

Ability to select sections of a piece to practice a) by entering the start / end points manually or b) by selecting sections of the manuscript with your mouse
Ability to loop with or without breaks
Custom tempo
Preview Piece function (with / without backing track) where the notes on the sheet music are highlighted in blue as they are played (this is actually quite cool).

Ability to add new students or edit existing ones directly within the app
Choice of color schemes (in Pure mode only): black (default) or purple
Scores are displayed that include a score for notes / timing / duration and overall score at the end of each audition or module where the student is required to play along with the click track
Plus lots more refinements under the hood that you can't "see" but help to improve the overall lesson experience
New Features To Be Added In Coming Weeks
Navigation: Ability to go direct to specific modules within a lesson (for lessons / modules that are being repeated)
View – the ability to change to alternate layouts, e.g. a scrolling single stave that may suit students with small screens
Keyboard shortcuts for all common functions
Ability to assign your own keyboard shortcuts
Print sheet music
Games section based on the revision room note reading / note playing modules so students can choose to focus on improving their note reading at any time
Built-in on-screen keyboard that can be played by students with a touch screen (for practical reasons this may only include 2 octaves which will therefore only be suitable for the beginner pieces)
Built-in virtual keyboard that allows you to play pieces via your computer keyboard.
Replay video button for instructional videos (as opposed to the Back button which brings you back to the start of the module containing the video)
Enhancements to tracking practice time, lesson time and total time (practice + lesson) to achieve 'X' stars
Ability to skip knowledge gathering if you have viewed it previously (knowledge gathering is currently not enabled)
Ability (on Settings screen) to adjust touch sensitivity (for touch sensitive midi keyboards)
Tour accessible from the Main Menu
Various enhancements to the ways in which feedback is given
Ability to upload your photo as your avatar
'Easy' mode for elderly students
So folks, there you have it.
Whether you prefer to try our current Windows / Mac versions or you're keen to try the very latest version, i.e. Musiah Unity (Beta), the opportunity to experience the world's most effective piano lessons is now within your reach.
Existing customers, to download Musiah Unity, simply log in (by clicking 'Login' in the top right corner of this page) and click the download link.
If you're new to Musiah, simply take our Online Piano Lessons 14 Day Free Trial — available for a strictly limited time — and enjoy the journey.
And of course, if you have any questions about Musiah's online piano lessons, please feel free to contact me directly.
Til next time,
Brendan Hogan L.Mus.A, A.Mus.A.
Piano Teacher & Musiah Inventor