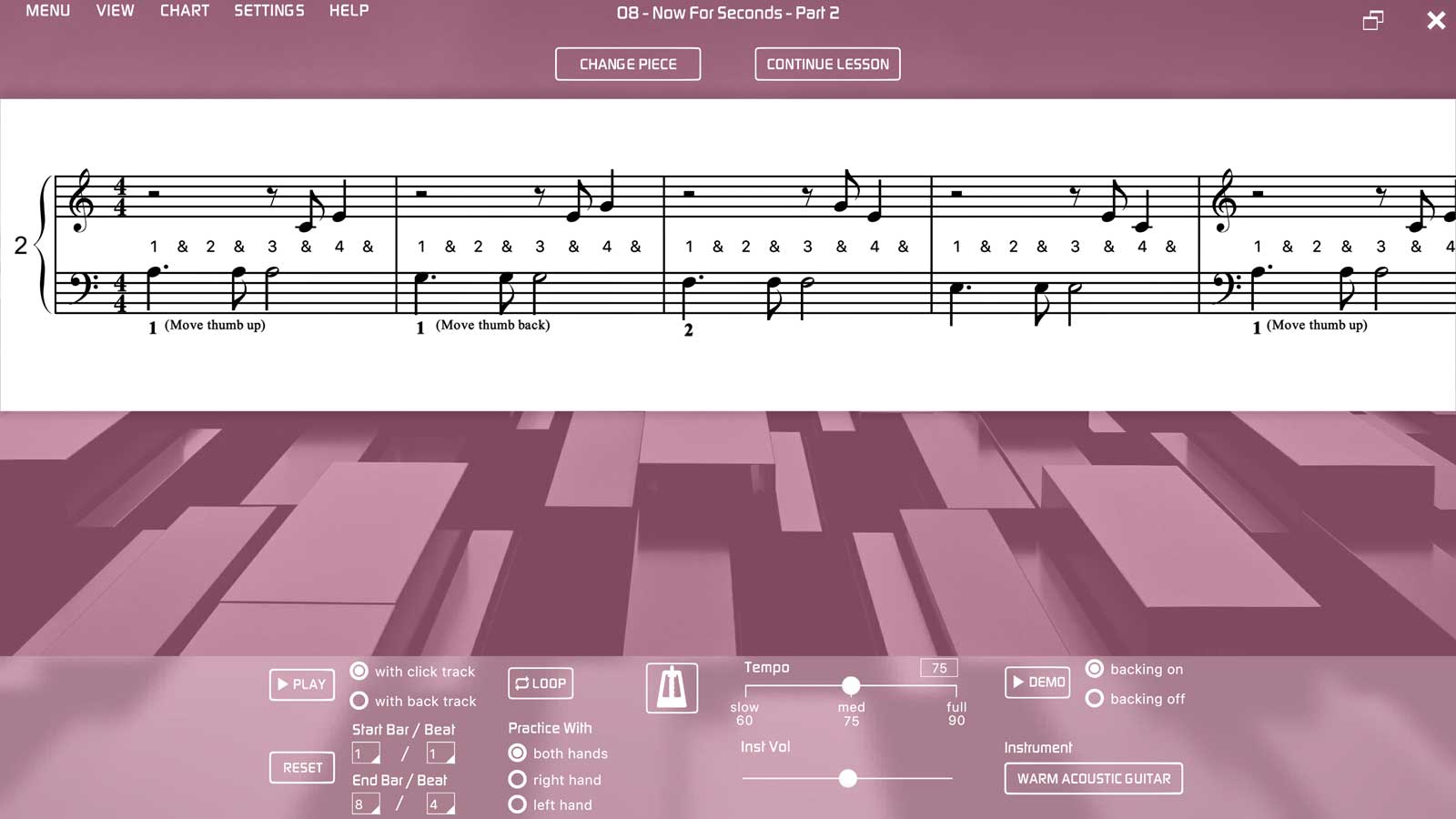 Recent updates have seen a number of cool enhancements to the Musiah Practice Area, and our latest update — due out in the next 24-48 hours — will include even more.
First of all, we've made it easier to get into the Practice Area from the Lesson Area. To achieve this, we removed the "Pause to Practice" button (a micro practice function) from the Lesson Area and replaced it with a "Practice" button which now takes the student directly to the full-featured Practice Area.
Another big change is Single Stave View is now available in the Practice Area. This gives students the option to switch from a standard full page view of the manuscriipt to a scrolling single stave which has much bigger notes, therefore making it easier to read.
Also in the Practice Area, students can now practice with
both hands
right hand, or
left hand
and be scored accordingly.
There's now a separate metronome for students who just want to practice freely without any feedback or other monitoring by the app.
Plus, there'll also be a new "Practice Untimed" feature added towards the end of this week. This is useful for students who want to play the notes slowly and correctly in their own time without a beat as a stepping stone to then trying the piece with a click track or backing track.
All of these enhancements to the Practice Area mean practicing your piano pieces inbetween or even during lessons is now easier and more enjoyable then ever.
Existing customers can access these great new features straight away as each update is released.
If you (dear reader) are not already a Musiah customer and you would like experience our incredibly effective, fun piano lessons and Practice Area, why not take our Online Piano Lessons 14 Day Free Trial.
As always, if you have any questions about piano lessons or the Practice Area, please feel free to contact me directly.
Thanks again for visiting,
Brendan Hogan L.Mus.A, A.Mus.A.
Piano Teacher & Musiah Inventor