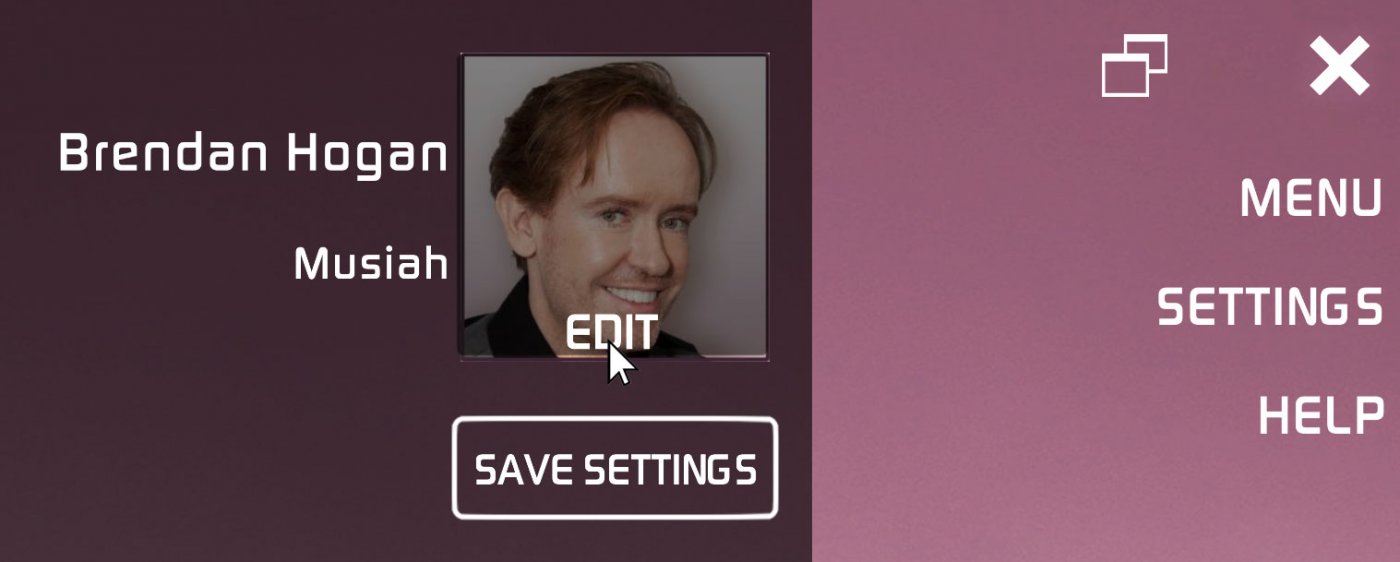 In the latest Musiah Unity (Beta) update (V2.2.13), we've added a neat new Custom Avatar feature which allows you to upload your own photo or image as your avatar.
To do this...
1) Select your student profile
2) On the Main Menu click "Edit Profile"
3) On the Edit Profile Screen, mouse over your avatar image and the option to EDIT the image will appear.
4) Make your selections, click save and you're done.
More New Features On The Way...
User Manual
The next update in a few days time will include a small but welcome addition to the app in the form of a User Manual.
In the first instance, this simple but practical tool will help to increase awareness of all the great features that are available in Musiah Unity.
Tour / Smart Tips
Leveraging off the User Manual, work has already begun on creating a Tour (which will soon be accessible form the Main Menu) and Smart Tips to prompt / help you as you use the app (for example, as you complete Level 1, a hint will explain what you need to do next, e.g. attempt the performance challenge / acquire more stars, etc.)
Easy Mode
Also in the next few days, an update containing a new feature called 'Easy Mode' will be released. This new mode will offer slightly more lenient scoring. This is intended primarily to assist students who are struggling due to factors such as age-related loss of faculties, learning disabilities, etc.
Auditions in easy mode will be awarded silver stars as opposed to gold stars. Performance challenges will be unlocked by either silver or gold stars. Gold stars will be shown on top of silver stars in the app.
Enhancements To Learning / Playing With Beat
Another group of changes students will see in the next few days is a number of enhancements to the A.I. logic in our flagship lesson module type (learning / playing with the click track). These enhancements will offer students assistance that is more context-sensitive and appropriately spaced.
For example, when playing a given segment of a piece with the click track, if you make mistakes on multiple attempts, the app will take you through the note identification / verification process less often than it might currently because it will track when it last took you through this process, and will wait an appropriate number of attempts before taking you through it again.
Additionally, a context-sensitive form of "You Played Vs Correct" help will be added this module type. This assistance will be skippable (if you choose to) and will also track how often and when it was last offered so it will be offered at appropriate intervals and at times when it will be most beneficial.
Of course all these and countless other behind-the-scenes changes are all part of our ongoing commitment to bringing you the best possible and most effective piano lessons you will find anywhere.
So if you (dear reader) would like to experience these amazing piano lessons, I urge you to take our Online Piano Lessons 14 Day Free Trial.
And as always, if you have any questions about Musiah's piano lessons, please feel free to contact me directly.
Thanks for reading.
Til next time,
Brendan Hogan L.Mus.A, A.Mus.A.
Piano Teacher & Musiah Inventor