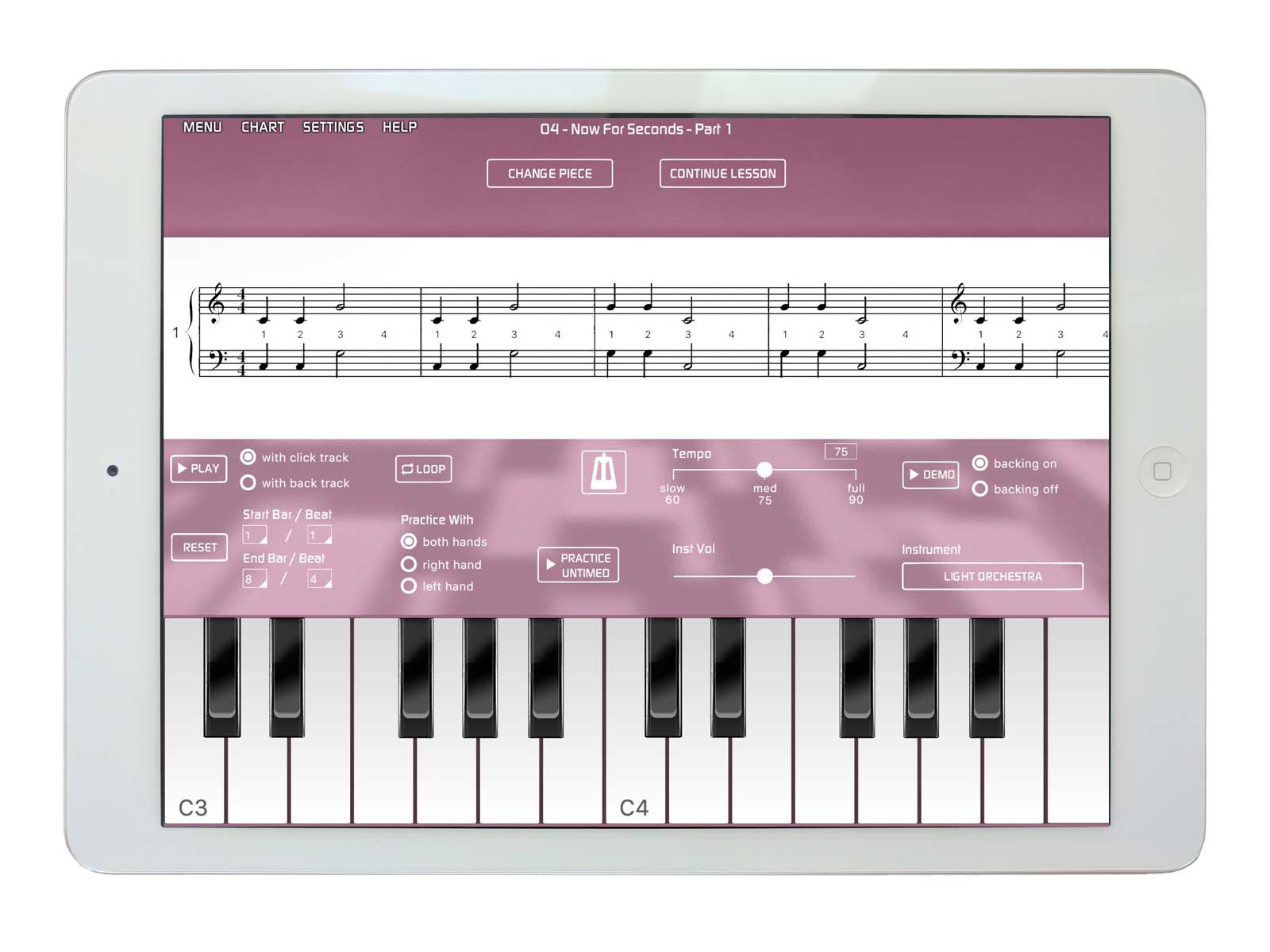 Today, I am excited to announce that Musiah Unity for iPad is now available for beta testing.
Piano lessons on an iPad is something that many people of all ages are interested in but to date, the depth of tuition offered by piano lessons apps has been superficial at best.
Thankfully, now that Musiah Unity for iPad is available, you really can experience piano lessons that offer the full depth of tuition of a traditional piano teacher on your iPad — at your convenience and at a fraction of the cost of traditional piano lessons.
What is Musiah?
Musiah is the world's first and only A.I. virtual piano teacher, a unique software invention that is modelled in incredible depth on a human piano teacher (yours truly).
Piano lessons with Musiah are so effective that children and adults around the world often describe Musiah as "almost more human than a human piano teacher".
For more on this topic, see A Piano Lessons App That's "More Human Than A Human Teacher"
What is Musiah Unity for iPad?
Musiah Unity for iPad is an adaptation of the full PC / Mac version of Musiah Unity — the latest iteration of the Musiah software piano lessons course — now tailored to run on an iPad.
Musiah Unity for iPad will run on any of the following devices:
iPad 3rd Gen
iPad 4th Gen
iPad Mini
iPad Air
iPad Mini 2
iPad Air 2
iPad Mini 3
iPad Mini 4
iPad Pro 12.9"
iPad Pro 9.7"
iPad 2017
Do I need a MIDI piano / keyboard to use Musiah Unity for iPad?
While Musiah Unity for iPad offers the option to use the On Screen Keyboard (shown in the image above), this should only be used as a very temporary measure.
Ideally, you should have access to a MIDI keyboard with at least 49 full size keys and this will need to be connected to your iPad.
For simple clear advice on how to connect a MIDI keyboard to an iPad, please see
How To Connect A MIDI Keyboard To An iPad
If you'd like to know more about why it is best to use a MIDI keyboard with Musiah Unity for iPad, please see iPad Piano Lessons — The Best Approach.
How can I get Musiah Unity for iPad (Beta)?
At the time of writing, Musiah Unity for iPad is in closed (invitation only) beta testing.
If you would like to participate in the beta testing, please contact us to register your interest, and when doing so, please advise
your Apple ID email and
your iPad model (if known).
An invitation will be sent to the Apple ID email you provide us. The invitation will come from "TestFlight" (Apple's beta testing system).
Please note, we'll invite customers gradually in the coming days.
Also, please note: An active Musiah subscription is required to access the app.
If you have not yet tried piano lessons with Musiah, why not take our Online Piano Lessons 14 Day Free Trial.
Then, early in your trial period, register your interest in the iPad beta testing to receive your exclusive invitation.
If you have any queries about any aspect of piano lessons with Musiah Unity for iPad, please don't hesitate to ask.
Thanks for reading,
Brendan Hogan L.Mus.A, A.Mus.A.
Piano Teacher & Musiah Inventor