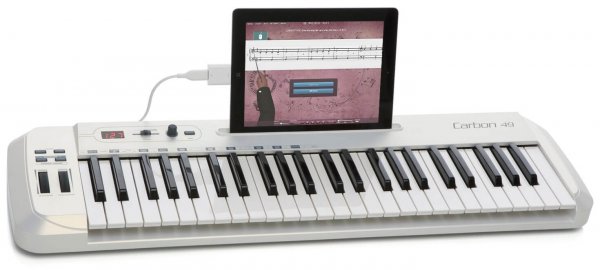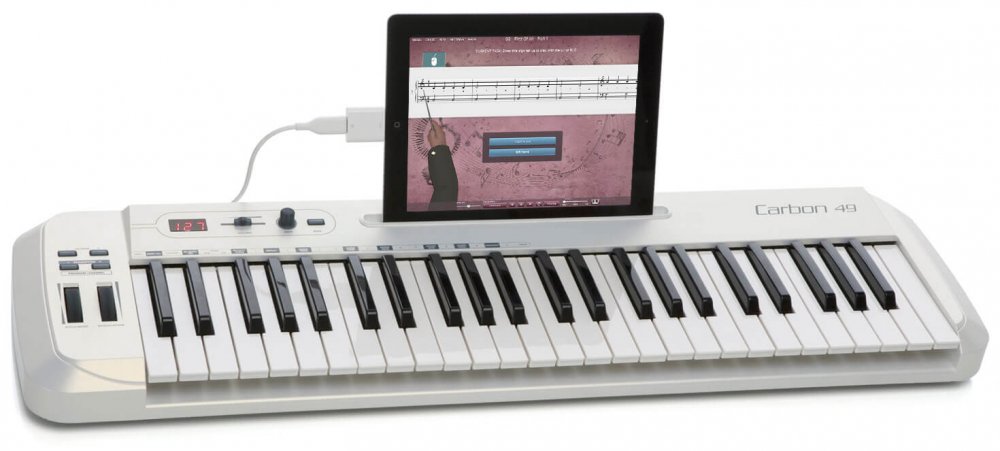 UPDATE: iPad Piano Lessons with Musiah Unity for iPad (Beta) is Now Available
If you're thinking about iPad piano lessons, you'll no doubt be starting to investigate such considerations as whether to use an on-screen keyboard or a MIDI keyboard, or even apps that use the iPad microphone to listen to a piano or non-MIDI keyboard.
With so many options available, there are a lot of factors to take into account.
Back in December 2012, I wrote an article entitled Can You Learn To Play Piano / Keyboard On An iPad / Mobile Device. In that article, I threw some cold water on aspects of learning piano / keyboard with an iPad for several reasons. However, since then, some of the key considerations have changed.
So today, I'd like to update a number of points from that original article and also share a number of new considerations — things it may help to be aware of when contemplating learning piano on an iPad (whether with Musiah Unity or any other piano lessons software).
First, and perhaps most importantly, as per my December 2012 article…
"When I advise students what to look for when selecting / buying a keyboard, one of the most fundamental considerations is that it must have full size keys (the same size as the keys on an acoustic piano or on an organ). Aside from the other obvious shortcomings of 'playing' piano by tapping on a glass screen, the keys on the screen are not even full size!"
This point still stands today. Full size keys are a must!
Additionally, when 'playing' piano using any touch-screen device, you cannot rest your finger tips on the surface of the keys as you would on a normal piano keyboard because as soon as you touch the screen, it triggers a note.
Instead you have to hold your hands in the air, hovering above the onscreen keyboard in a very unnatural way, and it is all too easy to bump the screen accidentally.
Also, controlling velocity of played notes is much harder on an iPad screen than on an actual piano keyboard.
So if you're thinking of using an iPad to learn piano / keyboard, please be know that it is NOT realistic to play the keys on the on-screen keyboard and expect that you will learn to play an actual piano / keyboard. If you attempt to learn like this, you will not achieve your desired outcome.
Ideally, you should have access to a MIDI keyboard with at least 49 full size keys and connect your MIDI keyboard to your iPad using an iPad camera kit. Alternatively, there are special cables and a few emerging bluetooth options that are also suitable for connecting a MIDI keyboard to an iPad.*
*NB: More information on these connection methods and the pros and cons of each will be made available with the release of Musiah Unity for iPad.
But what about piano apps for iPad that use the microphone to listen? This would eliminate the need to connect a MIDI keyboard to the iPad, right?
Wrong. The problem with this type of apps is that they are not reliable, and the challenges they face will continue to be tricky to overcome even as technology advances.
If the volume of the piano / keyboard notes is not sufficient, or there is background noise, microphone-based apps will struggle, they'll miss some notes, not respond instantly, fail to assess your timing properly, etc.
They also struggle in particular with polyphony (several notes at once). E.g. if you play a chord, assuming the app hears the notes to start with, it will often not interpret what it hears correctly via the microphone.
So even if apps that listen via the microphone appear to be effective for very basic beginners lessons, as the music becomes even slightly more complex, the effectiveness drops dramatically.
And don't get me started on what happens if you're using an acoustic piano that happens to be out of tune :)
The most reliable way — by far — to have your playing assessed by any piano lessons software is to connect a MIDI keyboard to your iPad either wirelessly (using bluetooth) or using a cable of some sort.
This way, your notes, timing and duration will be assessed accurately, e.g. by the forthcoming Musiah Unity for iPad.
Coming back to my December 2012 article for a moment; in that article, I stated that learning piano on an iPad / iPad mini with the Musiah piano / keyboard lessons software would not work for the following four reasons…
1. Since you need to be able to see a full page of sheet music (and other elements), the screen is too small to be practical. As a general guide for use with Musiah, the larger the screen, the more enjoyable your piano / keyboard lessons will be, and the easier it will be to read the sheet music.
UPDATE: With the creation of Musiah Unity, extensive work has been done on the layout to address the issue of limited screen space, for example through creation of the option to view the sheet music as a single scrolling stave. So this issue has been addressed.
2. Unlike conventional computers (desktops / laptops), an iPad / iPad mini does not have anywhere near the necessary processing power or RAM to run the Musiah software.
UPDATE: With the creation of Musiah Unity, the demands for CPU processing power and RAM have been greatly reduced while iPad specs have steadily increased. So Musiah Unity for iPad will run successfully on iPad 2 and above.
3. Among other technologies, the Musiah app uses Flash but an iPad / iPad mini cannot run Flash.
UPDATE: The original version of Musiah that was in use at the time of the December 2012 article used Flash but that version of the software has since been phased out. The current version of the Musiah software is Musiah Unity which does not use Flash but instead runs on the Unity game engine. So Musiah Unity for iPad will run perfectly fine in an iOS environment.
4. While it is possible to connect a MIDI piano keyboard to an iPad, a special cable is required since the connection is made into the power socket of the iPad (because it doesn't have a USB port), and these cables (as far as I know) are only available for MIDI keyboards that have a USB port at the back, i.e. if you own a keyboard with traditional MIDI in / out ports, forget it.
UPDATE: Since my December 2012 article, many more options for connecting a MIDI keyboard to an iPad have emerged. The most common of these is to use an iPad camera kit to connect a MIDI keyboard. There are also various other cables, adapters and even bluetooth options now available that make connecting your MIDI keyboard more practical than even before, so this issue no longer exists.
In closing, provided you use a MIDI keyboard with at least 49 keys connected to your iPad, with Musiah Unity (closed beta release date mid-March 2017) you will indeed be able to learn to read sheet music and play piano properly using an iPad — and in record time!
In the meantime, Musiah Unity for PC and Mac is available for you to try and is a highly effective, innovative and engaging way to learn piano. So I warmly invite you to take our Online Piano Lessons 14 Day Free Trial and experience the Musiah piano lessons journey for yourself.
As always, if you have any questions about piano lessons with Musiah, please feel free to contact me directly.
Thanks for reading,
Brendan Hogan L.Mus.A, A.Mus.A.
Piano Teacher & Musiah Inventor
HELPFUL LINKS
Piano Lessons Or Keyboard Lessons – What's the difference?
Weighted Keys Vs Unweighted Keys
Equipment Needed for Musiah
MIDI Keyboard Requirements for Musiah
The 3 Different Kinds Of Keyboard Lessons

RECOMMENDED ARTICLES
Online Piano lessons – Do They Work?
Piano Lessons For Adults
Piano Lessons For Kids
Piano Lessons For Beginners
Advanced Piano Lessons
Free Piano Lessons (on piano technique)
The Best Piano Method
The Best Piano Learning App
Learning To Play Piano As An Adult – Why it's easier than you think!